5 effective home remedies That Eliminate nappy rash in 48-72 Hours
Hello and welcome. This blog sometimes uses affiliate links and I may make a small commission when you purchase any of these carefully selected recommendations. These commissions help me keep the blog running and up-to-date. Feel free to read my very boring disclaimer for further information 😉
We keep our babies in diapers to protect them, ourselves, and our home from the consequence of allowing them to roam without diapers. That, I am sure you can imagine.
However, these nappies trap moisture and bacteria on the baby's skin. Often, there is not enough ventilation on the babies' nappy area to keep the skin healthy. This causes skin rashes and infections on the baby's skin.
Causes of Diaper Rash
Nappy rashes or diaper rashes is caused by irritation of the sensitive skin of the nappy area as a result of being in contact with urine or baby poo for too long.
These rashes thrive in moist, warm areas on the baby such as the private areas and can range in color and sizes. The skin might look spotty, red with patches or clusters of rashes that might start spreading if left without proper treatment. Other causes of diaper rash include:
Sensitivity to some baby products you are using.
Sensitivity to some foods or detergents used on the baby's clothes
Some babies with sensitive skin are easily irritated by baby wipes containing alcohol
The baby might be allergic to some medications
When to visit the doctor
Diaper rashes have become common in almost all babies as a result of the normalisation of constantly keeping babies in diapers in their early years. It is not something to worry about unless it is becoming resistant to conventional creams, remedies, ointments or, it is spreading fast. Then, it is time to visit the doctor for further investigation.
Tips for care and prevention of diaper rashes:
Frequent changing of the baby's diaper once it has been soiled. This is because prolonged skin contact with the baby's waste is the most common cause of diaper rash. Moisture is also a leading factor in causing diaper rashes.
Giving their nappy area a break time even if it is at least 1 hour every day. You just put some pants on them or let them roam around with a long shirt so that their sensitive area will have some rest and air.
Totally avoid the use of plastic and tight diapers as they prevent the circulation of air contributing to the growth of rashes.
Be gentle with the baby and use gentle or natural products as much as possible – avoid vigorous rubbing of the baby's skin
Gently and thoroughly wipe the baby before using water to clean the nappy area well to avoid any remnants of waste in the folds of skin or hidden areas on the baby
Regularly soak the baby's cloth in disinfectants such as vinegar, Detol etc. to kill bacteria that might be living on the baby's clothes.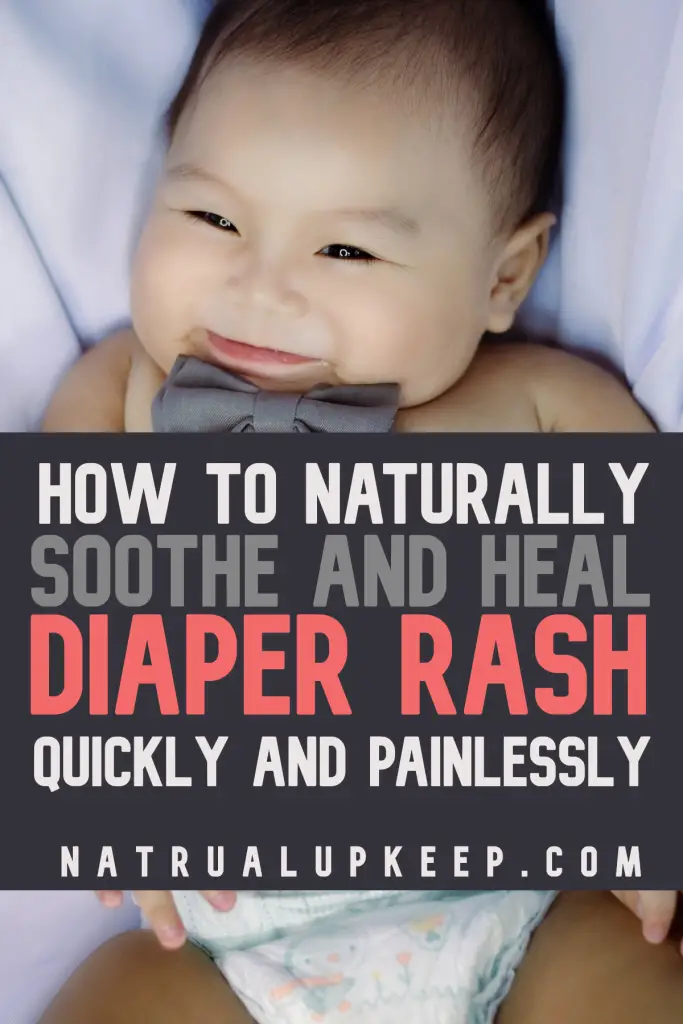 Home Remedies
Air
This is listed as the first remedy probably because it is. The truth is that even if you use all the remedies recommend here but you don't let your little one's bottom get some fresh breeze, then you are in for it.
Even when the remedies work, without careful care as mentioned above in the tips section, You and the baby will continue to suffer through the cycle of a diaper rash after a diaper rash.
It is very important that you let the nappy area breathe. The air helps in not enabling micro-organisms to live and grow on your baby. This is the best prevention and care for a diaper rash.
Try and let the baby roam about even without any pants (if you can) for at least 1 hour out of 24 hours please. If you can do better than that, that will be wonderful:-)
Garlic ointment/oil
Garlic ointment is one of those must-haves in my family because of its diverse use and quick effectiveness. Garlic ointment is made mainly from garlic and some oils which makes it a good remedy for skin ailments in both babies, children, and adults.
The best part about this ointment is that all the ingredients are natural foods that we eat. It is very safe for everyone unlike the popular industrial creams we use such as Sudo cream.
I have seen the near-magical effect of this ointment on my niece's diaper rash. My sister noticed some rashes on her bottom while changing her diaper at night. Then, she had this ointment at home. She then casually applied the ointment simply because it is good for skin conditions.
Hoping that by morning, she will then properly inspect the rashes and find a better solution. When she checked in the morning, they were all gone. She was very surprised. Since then, whenever she sees any kind of rash or skin problem on my niece, she first applies the garlic ointment and it almost never fails to work.
How to make:
Ingredients:
Raw garlic – 8 cloves (pieces)
Coconut oil – 1/2 cup
olive oil (optional)- 1/3
Process:
Mince, grate, or finely chop the garlic
Add the oil (s) to a blender
Add the minced garlic
Blend until smooth
Pour into an airtight jar/container and refrigerate
It can keep for 2-3 weeks
This recipe is the basic garlic ointment recipe. It works just as well as the complete recipe which includes beeswax, essential oils such as lavender, tea tree, etc. If you have any of these ingredients, feel free to add them to the garlic ointment
*You can substitute olive oil for coconut oil if you don't have any at the moment or if you are allergic.
How to use:
After cleaning the baby, Test it out on the baby's skin to make sure it is not too concentrated for him/her
If all is well, apply the oil generously on the baby's skin
Then let him/her roam about or then, put on the diaper for him/her
You can use it 2-3 times a day or after every diaper change to protect the baby from the harmful micro-organisms in their soiled diaper
Natural oils (Olive oil or shea butter)
These are commonly used natural oils for both beauty and food purposes.
Here, they nourish and soothe even the most sensitive skin with their nutrients such as vitamin A, K, and their anti-inflammatory and healing properties.
Remember to use the best quality of these oils that you can find. The more natural and pure the better.
You can use it as an ointment or as a replacement for the baby oil at least for the time being until the rash has cleared.
How to use:
Apply some estimated amount with your fingertips to the rash area and around wit. Then, rub gently until it is absorbed and it covers the entire area before finishing the nappy.
I will advise using the shea butter over the olive oil because it is richer and has more nutrients but wither will work for you.
Where to get it:
This raw organic shea butter is what you need in a situation like this where you need the best quality possible for your baby's fast rash elimination. It costs about $12 for 120ml and a certified Fairtrade product.
Its travel size makes it easy to carry around without much hassle. It is available on Vita Springs website.
As for the olive oil if you prefer it, an extra virgin oil like this one by flora health that is organic and costs about $15 will do the trick.
Cornstarch
Use cornstarch is used as an alternative to baby powder to absorb the moisture in the diaper. There is increased awareness on the dangers of using talc baby powders for they cause short term and long terms effects on the baby after they grow up such as cancer, lung and respiratory diseases from inhaling the powder as babies, etc.
This awareness and lawsuits led the popular Johnson&Jonhnson company to stop selling their baby talc powder in America and Canada but they continue to sell it in other places around the world. How unfortunate! You can read more on the harmful effects of talc baby powder here. Instead of the manufactured baby powder, use cornstarch to keep the baby dry which is the main purpose of baby powders.
Where to buy:
Cornstarch is available in the supermarket. You can find it where they sell baking items. If you can get an organic cornstarch, it will be best. If not, an ordinary cornstarch will do.
Apple vinegar
Apple vinegar is commonly used to treat infections, prevent bacteria growth, and balance the PH on the skin. For the baby, apple vinegar will disinfect baby's skin and balance the skin PH that was unbalanced from the alkaline in the urine.
How to use:
Mix a tablespoon of apple vinegar in half a cup of  water
Test the mixture on a skin patch of the baby to make sure they are not allergic to it or the concentration is not too strong for him/her (you may need to dilute further in that case).
Using a piece of cotton, apply the diluted vinegar generously to wipe the nappy area.
Allow it to dry before applying anything else or dressing them.
48 HOurs Nappy rash elimination plan
These tips and remedies all that you will need to treat even sever diaper rash. If the rashes are not responding to treatment after 3 days, then you need to see a pediatrician fast. There might be more to it than meets the eye.
To eliminate any common nappy rash in 48 hours, Here is what you need to do:
Implement all the care tips mentioned above as soon as possible
Take off the diaper and apply the garlic ointment. Then, let the baby's bottom get some fresh breeze for longer than you usually allow as we know that these rashes tend to be itchy and painful.
When changing the diaper, disinfect the baby's bottom with the apple vinegar solution described above (also between every nappy change) after properly cleaning the baby with wipes (water and soap is best). If you have no vinegar, just be sure that the baby's bottom is cleaned with soap and water
After the area is dry, apply garlic oil or any natural oil mentioned/applied previously then secure the nappy.
If using baby powder, substitute wit with cornstarch instead.
Repeat this process throughout the day until the rashes clear up
Once the skin has healed, just keep to the advice mentioned above to prevent any more diaper rash on your baby
This treatment plan works for severe diaper rash. For a mild rash, it can even clear in 6 hours. It is mostly in the case of a sever diaper rash that you need to continue the treatment for 2-3 days until it clears up.
As you follow this treatment plan, you will notice that the rash is improving gradually. I wish you the best. If you have any questions, let me know in the comment section below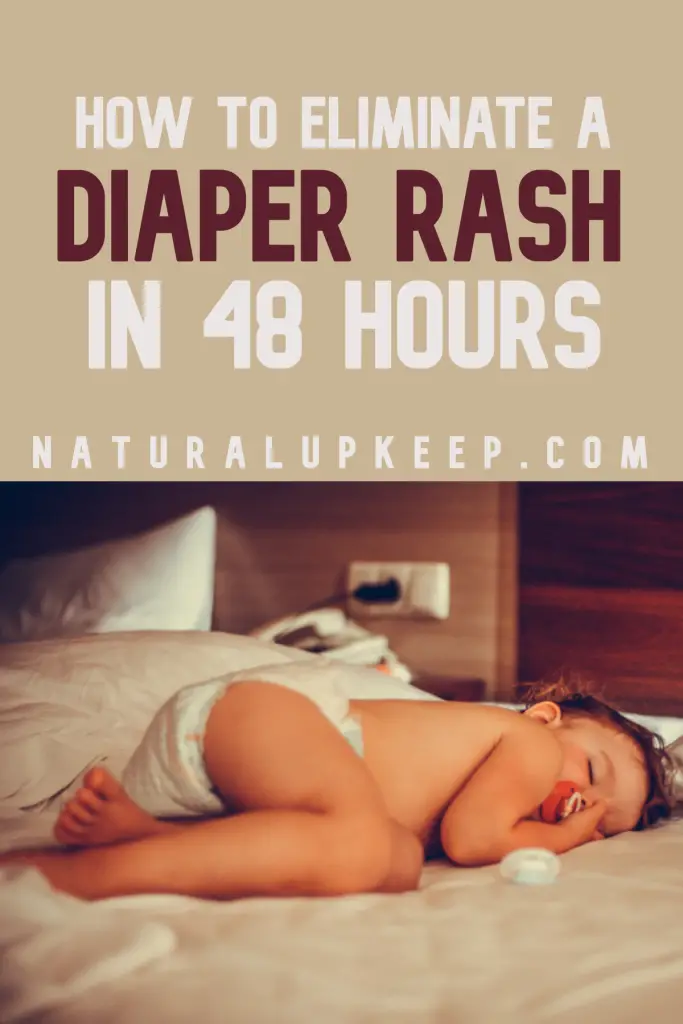 Conclusion
Nappy rashes are common and in most cases, they are easily treated with home remedies. It will be good to remember the tips for baby diaper care so that the frequency of the diaper rash can be significantly reduced or eliminated completely.
Nappy rash is one of those situations where the saying of prevention is better than cure is very much applicable. So please be vigilant.
The rashes can become infected when they continue to spread and develop into pimples despite using effective home remedies. In this case, it will be good to schedule a visit to the doctor's office for proper checkup.
Please remember to let the baby rest from the constant nappy changes and let them feel some air and the sun especially when they have rashes. Constantly living in nappies will aggravate the problem and can develop into yeast rashes if care is not taken.
Avoid using mentholated ointment, powder, and other hot/warm products when the baby has a rash because they can aggravate his/her condition and increase his/her pain and discomfort. Use soothing products and dress them in airy clothes preferably cotton.
I hope you found this article useful and informative. These are all easily available items where ever you are so you will not have much trouble securing them. Remember, nappy rash is best prevented (I hope I am not being too whiny now haha). I wish you and your baby the best
Kindly rate this article below so that I can improve in my writing and delivery.  I welcome your thoughts, questions, and remarks in the comment section below.
Thank you for stopping by and have a nice day.